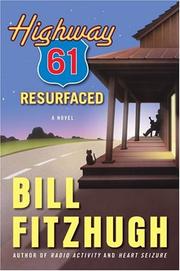 High­way 61 resur­faced
World­Cat • Read Online • Library­Thing • Google Books • Book­Finder
This is the sequel to Fitzhugh's last book, Radio Activ­ity. The story cen­ters around a group of old blues musi­cians and a myth­i­cal record­ing ses­sion in which they were sup­pos­edly involved. Radio DJ turned pri­vate inves­ti­ga­tor Rick Shan­non is drawn into a search for the blues­men, their leg­endary tapes, and the mys­te­ri­ous cir­cum­stances sur­round­ing the sup­posed time of the record­ing session.
This book is often laugh-aloud funny — typ­i­cal Fitzhugh. He has a knack for cre­at­ing hilar­i­ously absurd char­ac­ters and sit­u­a­tions. He names his three blues­men Blind Buddy Cot­ton, Crip­pled Willie Jef­fer­son, and Crazy Earl Tate. Thus, the myth of the Blind, Crip­pled, and Crazy record­ing ses­sions. Fitzhugh is also very good at cre­at­ing fig­u­ra­tive lan­guage that seem­ingly comes out of left field, but that absolutely works. For exam­ple:

He passed the faded green-and-white sign for the South­ern Pride Apart­ments. The build­ing itself was gone but its foun­da­tion still sat proudly on the lot, as if wait­ing for that part of the south to rise again."
This book, like Radio Activ­ity, also dis­plays Fitzhugh's great love for — and knowl­edge of — music. His char­ac­ters are made-up, but all the musi­cal back­ground infor­ma­tion is real. I can highly rec­om­mend this book, along with the rest of Bill Fitzhugh's output.